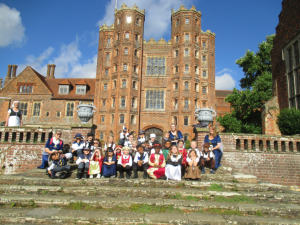 On Monday 4th October, 2K visited Layer Marney Tower as part of our History curriculum. It was a wonderful day learning more about the Elizabethans.
Last week, we wrote recounts of our trip. Here is a recount of our trip to Layer Marney Tower written by Marnie:
First thing on Monday, I went on the coach and I was looking out the window because outside it was beautiful and pretty.
When I arrived, I was feeling surprised because it was cool there.
When I got there, I climbed a tower and I climbed ninety-nine stairs.
When I got to the top of the tower, I looked at the grass. I saw goats.
In the afternoon, I had my home packed lunch and my lunch was delicious.
After lunch, we walked to the trim trail and we had fun.
Then we all played some Tudor games. We played Get the Horseshoe Round the Pole. We played Get the Rings round the Small Pole. Then we played Skittles.
After that, we did maypole dancing. Then we went back to the coach and went back to school. When we got to school, I saw my mummy and she waved at me.
At the top of Layer Marney Tower
Archery
Maypole Dancing
On the steps of the Grand Hall