Welcome back to school! We hope you had a restful summer. We are looking forward to a new year and hopefully getting back to a much more 'normal' way of working!
We would like to share some key bits of information about this year (and offer our apologies that some of it has not been shared with you a little more promptly!):
PE days and PE kit
Until the October half term, every Wednesday one of our PE sessions will take place at the Eversley Leisure centre. The second is outdoor PE and will be on a Thursday. After half term the indoor PE day will change to Tuesday.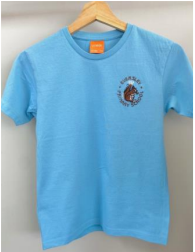 On both PE days children may come into school wearing their PE kit, including the blue PE T-shirt (with or without the logo) and wear them all day. Shorts or jogging bottoms should be black. Children who do not have this kit can come to school in uniform as usual and change into their PE kits for the PE lesson. It is better if children do not wear earrings on this day.
If children do not yet have the new blue PE top and still just have a white one, it is acceptable to come to school in black PE bottoms and their normal blue uniform top and just change into the white top for the PE lesson.
Hair, earrings, footwear and drink bottles

This is just a quick reminder that any hair longer than shoulder length should be tied back and any earrings should be small studs. Hoops or dangly earrings are not allowed. School shoes should be plain black with no white or coloured markings, including around the sole. Please ensure that your child has a water bottle in school every day. There is plenty of access to drinking water to refill these as often as necessary but, for hygiene reasons, it is not appropriate for us to provide cups.
Homework and reading
Homework will continue to be issued on Teams and will be set on a Thursday, starting from 16th September. It will be due in the by the following Tuesday morning. We are always willing to help if children have difficulties either accessing or completing their homework. It is, however, their responsibility to come to us before the due date to discuss this. Any homework not handed in by the due date will need to be completed in school during lunchtime.
Reading diaries will be checked on a Monday morning. Children are expected to read a minimum of 5 times per week and reading diaries should be signed by an adult to confirm that this has happened. We may ask children to stay in and read during break-times if they persistently do not hand in their diary or record that it does not show that they have read enough times.
Additional groups
We are very lucky to have a third teacher – Mr Byfield – working across year 5 this year. This is to enable us to provide as much support as possible to all of the children to make up for the unfortunate disruptions to learning over the last two years caused by Covid. Mr Byfield will be teaching in the 'cabin', just across from the year 5 classrooms and will be taking a group of 16 children – likely 8 from each class – for English and maths most mornings. The other children will remain with their class teacher. This will mean that all three classes are significantly smaller, which will benefit everyone. The children in Mr Byfield's groups are likely to change periodically but how often this will happen has not yet been decided.
Other staff working in year 5
Every second Thursday the usual class teachers will be out of class for the day. The classes will be covered on these days by Mrs McCluskey in 5T and Mrs Oliver in 5F. These members of staff worked with the classes last year so they are very familiar with the children.
Our LSAs are Mrs Rees-Ford in 5T and Mrs Nicholls & Mrs Brown in 5F. We will also have a trainee teacher, Miss Conroy, working with us in 5F at various times throughout the term.
Please feel free to speak to any of the year 5 team if you have any questions or concerns. We can be contacted by email or through the school office and are usually available for a chat straight after school.
Many thanks for your support,
Mr Byfield, Mrs Friedberg and Mrs Taylor